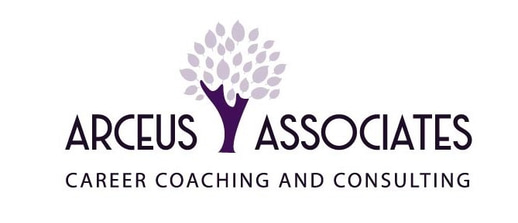 Mentoring, Sponsorship or Coaching
You are on the cusp of promotion but do not like the role you are in. What do you do? Stick it out or switch out? What is the difference between a mentor, sponsor and coach, and how can you leverage all three to help you?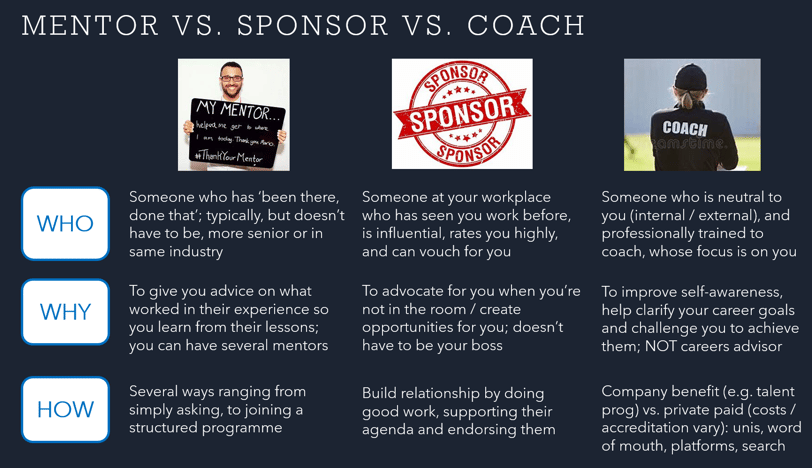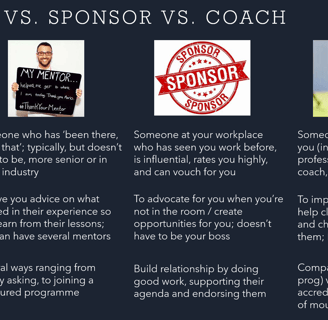 Many people we speak to get confused about who mentors, sponsors and coaches are, and what role they can play in one's career. So we decided to run a masterclass on it for members of Women in Risk and Control as part if their annual event this year.
Let's start with mentors. It is the most familiar concept, and chances are that most of us have had one in our lives. Mentors have more experience than you have in the particular areas you need mentoring in. They don't have to be older even though many typically are - mentors give you advice based on their experience. In a rapidly changing world of new technologies it is therefore increasingly common to find reverse mentoring - someone from a younger generation advising the older one on social media, coding, crypto, the meta verse, etc. You can have several mentors for different topics, and they don't have to come from work - family can be a great source of life mentors! You don't even need to know them personally - if you've been following someone's advice on a podcast - you've been treating them as a mentor. How do you find a mentor? Just ask.
Sponsors are a little different. They are normally someone at work, or someone at a future workplace who can get you places. They advocate for you when you're not around, which means they must believe in you so strongly that you don't necessarily need to ask them for favours (though that doesn't mean you can't). Sponsorship has to be earned, and sponsors need to have sufficient clout or influence to make a difference in getting you that job or position that would otherwise be difficult to reach. The relationship with a sponsor tends to be one of mutual benefit as a result - you support their leadership and they endorse you in front of decision makers. If you feel you have been working your socks off for someone who should be sponsoring you but isn't, be brave and have an explicit conversation about sponsorship.
Coaches are neutral to you. They can be internal to your organisation or external, as long as they have explicitly contracted to coach you on a specific topic. Trained coaches have been taught the art of deep listening and how to ask the right questions to challenge your thinking. They don't give you advice, but can stretch and bring the best out of you. Their agenda is you - good coaches can help improve your self awareness and confidence, focusing on your strengths, resources and what you can control to achieve tangible outcomes that you value. Yes it is confusing when you hear of 'life coach' vs 'career coach' vs 'executive coach' vs 'health coach' - these titles simply reflect the clientele or specialism the individual coach is targeting, but all accredited coaches (e.g. ICF, EMCC, AC) have gone through the same fundamental training and subscribe to a code of ethics. To find a coach, word of mouth recommendations are what most people prefer, or search to see if there's a coach on LinkedIn, social media or service matching platforms whose profile 'speaks' to you. Fit is important in a good coaching relationship.
So, if you happen to be on the cusp of promotion but don't like your job or the prospect of what you might get promoted into, what should you do? You could speak to a couple of mentors - perhaps a leader from a different function and someone who has left your organisation to do something else you'd been eyeing. You may get conflicting advice - one tells you to hang on, get promoted, then move at a more senior level. The other might tell you to go before it's too late, because it's harder to switch jobs with a senior title. You could engage a coach to help you get through the muddle. Your coach may help you think more deeply about your values and whether you are living up to them at work. They may help you prioritise the trade-offs, and challenge you to think more strategically about your untapped resources. Through that, you could examine your network to see if you have sponsors - past, current or potential - who could put in a good word for you whichever option you finally land with. You could leverage all three to get the clarity you seek.
So, have you got a mentor, sponsor or coach?